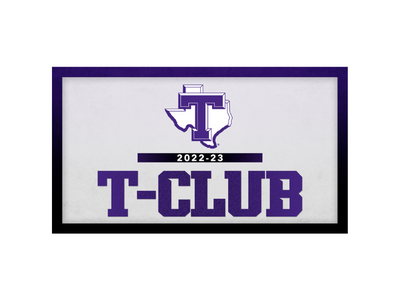 About the T-Club: The mission of the T-Club Lettermen's Association is to assist our former athletes in staying connected to Tarleton Athletics and their sport-specific programs through events, career networking/mentoring, and philanthropic initiatives.
 
Goals of the T-Club: T-Club aims to inspire letter winners.
To be connected
by providing accurate and up-to-date contact information
by coming back to Tarleton regularly 
To be engaged 
by following their team on Tarletonsports.com and on the Tarleton Sports Network
by attending competitions and alumni gatherings
by meeting current players and coaches
To be involved
by assisting with alumni connections, events, and gatherings
by assisting with internships, summer jobs, and permanent employment opportunities for our student-athletes
by assisting with fundraising efforts to advance the program
T-Club Memberships
All letter-winners that completed their degree in the previous athletic year. Includes all Annual membership benefits
Official T-Club bumper sticker and 1000 points in the Tarleton Fan Rewards Program
All Benefits of the Annual, plus: *15% off Tarleton Athletic Tickets
Lifetime membership is a one-time payment. All Benefits of the Varsity Annual, plus: Official personalized commemorative plaque presented at a home game of your choice
Where does my donation go? You get to choose! It can go into the T-Club general Scholarship Fund or you can designate it to the sport of your choice!
---